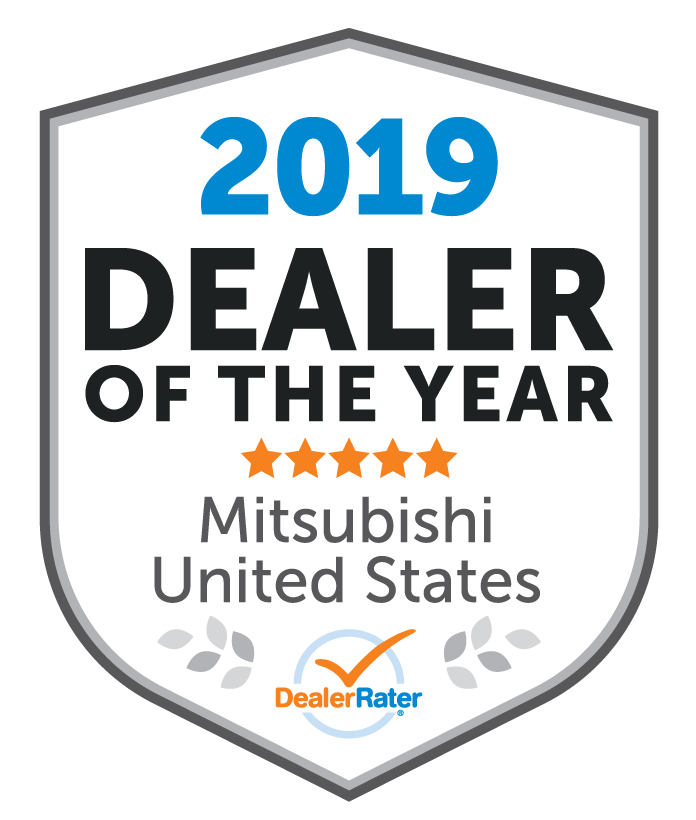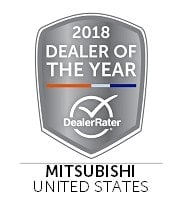 RC Hill Mitsubishi Wins 2018 DealerRater Mitsubishi Dealer of the Year Award
Award recognizes top U.S. and Canadian auto dealers who demonstrate excellent customer service as expressed by consumer reviews written on DealerRater
DeLand, FL - March 27th, 2018 - RC Hill Mitsubishi has been awarded a 2018 DealerRater Dealer of the Year Award, which recognizes auto dealerships across the U.S. and Canada who deliver outstanding customer service, based on consumer reviews written on DealerRater.com.
"Car buyers have spoken and have identified RC Hill Mitsubishi as the best Mitsubishi dealer to do business with in the U.S," said DealerRater CEO. "The quality and number of reviews for RC Hill Mitsubishi speak volumes of the top-notch experiences they provide to customers."
The DealerRater Dealer of the Year Awards are based on reviews by new- and used-car shoppers and those who took their vehicles into dealerships for service. Reviewers evaluated RC Hill Mitsubishi on its customer service, quality of work, friendliness, pricing and overall experience.
RC Hill Mitsubishi has demonstrated consistently high PowerScore™ ratings for customer satisfaction, placing it in the top of its class. The PowerScore is determined using a Bayesian algorithm that factors the dealership's average DealerRater consumer rating and the total number of reviews written about the dealership during the 2016 calendar year.
"Today's car shoppers pay attention to reviews and a dealership's online reputation, which makes the significance of the DealerRater Dealer of the Year Awards crucial to dealers looking to thrive in today's business environment," added Tucker.
DealerRater has an audience reach of more than 40 million consumers who read more than 3 million dealer reviews.
About DealerRater
Founded in 2002, DealerRater, a Cars.com Company, is the world's leading car dealer review website that connects consumers with the right person at the right dealership. The site offers more than 2.5 million sales and service reviews across 41,000 U.S. and Canadian dealerships, including a network of more than 5,600 Certified Dealers. More than 14 million consumers read DealerRater content across the web each month. By offering a product suite that allows qualified dealerships to manage their reputations and achieve higher SEO rankings, DealerRater supports new customer connections by growing online presence.

 _____________________________________________________________________


FOR IMMEDIATE RELEASE    (RC Hill Mitsubishi)  


R.C. Hill Mitsubishi HONORED WITH
TENTH CONSECUTIVE 2017 MITSUBISHI DIAMOND CHAPTER OF EXCELLENCE AWARD
Local Mitsubishi Retailer Earns Top Marks in Sales, Service and Satisfaction
 DeLand, Florida (March 3, 2017) RC Hill Mitsubishi has been designated by Mitsubishi Motors North America (MMNA) as a 2017 Diamond Chapter of Excellence Award to recognize exceptional performance in sales and customer satisfaction. "RC Hill Mitsubishi is one of our top performers in every aspect of the sales experience," said MMNA President and CEO. "Their professional treatment of customers with integrity and respect will bring those customers back to our brand again and again. We thank RC Hill Mitsubishi for this important contribution to our success."
Diamond Chapter of Excellence (DCE) dealerships must attain 100% compliance with a variety of requirements: 

1. High rankings in sales, service, and parts operations through customer-friendly retail processes satisfaction.
2. High ranking in MMNA's consumer satisfaction assessment.
3. Meeting additional requirements in sales and service processes, and employee training and development.

 "The Diamond Chapter of Excellence Membership is important to all of us at RC Hill Mitsubishi," said (RC Hill, III, Owner).  "We recognize that superior customer service is key to our success.  We are very pleased to earn this prestigious award eleven years in a row and we're proud to be a part of the Mitsubishi Motors family." RC Hill Mitsubishi will receive a custom-designed solid crystal museum piece to display in its showroom, which symbolizes excellence in customer satisfaction.
RC Hill Mitsubishi located in (DeLand, Florida), offers a full line of Mitsubishi vehicles, including coupes, convertibles, sedans and sport utility vehicles.  The website address is www.rchillmitsubishi.com.



What is the Diamond Chapter Of Excellence?

The Diamond Chapter of Excellence

award is the standard that all Mitsubishi dealers strive for. It is the highest standard set by Mitsubishi Motors for customer service in the sales, service and parts departments. Our dealership personnel are friendly, knowledgeable and happy to thoroughly answer any questions or concerns you might have regarding leasing or purchasing a vehicle. Mitsubishi's primary goal is an ongoing commitment to superior service, ensuring that the needs of our customers are met. Please visit RC Hill today and experience the Mitsubishi difference for yourself.





R.C. Hill Mitsubishi's automotive expertise is a product of our sustained interest in industry trends and characteristics. We are privileged to share the latest news, promotions and events with you and hope the information will enhance your shopping experience. As you know, there are many new cars from which to choose, and we believe an informed customer is the best customer.